If you're in a shopping mood this Labor Day weekend, you're in for a treat!  There are many good deals for homeschooling families floating around the internet this weekend.  Here are a few highlights: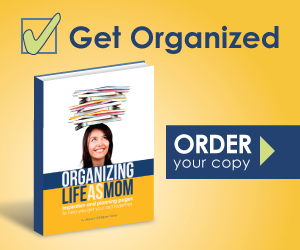 Life as MOM is having a spectacular sale on her e-books this weekend. I personally own Organizing Life as MOM and can't talk enough about it. She provides practical tools for real moms to use so they can thrive in motherhood and not just try to survive it. There are add-ons for blogging and also for homeschooling. FishMama is offering $3 off of any purchase over $8 this Saturday, Sunday and Monday by using the coupon code: MOMROCKS.
Interested in trying out The Well-Planned Day in your homeschool this year?  Get 25% off of any of The Well-Planned Day planners during the month of September.  Make sure to use coupon code septsale at check out to receive your discount.
Discount School Supply
 is offering 10% off Back-to-School Supplies with FREE 2-day shipping.  Use the coupon code BTSATDSS at check out to receive the discount.  Offer is good through September 6th.  Discount School Supply stocks everything from crayons to unique manipulatives to excellent educational toys and play items.  I always have a running list of items to order from there!
Scripture Adventures is offering 10% off any of their downloadable products.  Use the coupon code newsletter to obtain your discount.  We used An Easter Adventure during the Easter season last year and it was definitely one of our favorite studies.  There were more activities and information packed into the curriculum than we had time to complete.  I highly recommend their resources!
Disclosure:  Some of the above links are affiliate links.  For more information, please read Mama's Disclosure Policy.